Skip to content
I have a bad habit of hanging out on the couch after work and scrolling through Instagram. After a day of planning, creating, posting, and commenting on social media, you would think that I would want nothing to do with it once I clock out. Wrong. Natalie posted not too long ago about how social media is addictive and messing with our brains. I totally agree with that. But that's not the scope of this post today…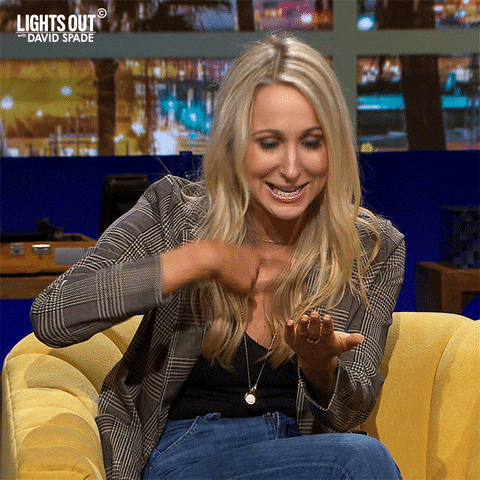 Last week we talked about how cookie cutter content doesn't work on social media. Today we're talking about the opposite: how to stand out. What makes someone stop and spend the time scrolling through ten images in a carousel? What makes someone like something or share it with a friend? How do you get that all-important word that we keep talking about: engagement?
We've mentioned before that people come to social media to be entertained, inspired, or educated. So each post needs to be at least one of those things. But with so many people on social media creating content, how do you make sure your posts stand out?
Well, friends, without further adieu, I give you five ways to make sure your content stands out on social:
How to Stand Out On Social Media: Be Different
Example: Fyre Festival
Remember the Fyre Festival? You don't? Okay, stop what you are doing and watch either Fyre: The Greatest Party That Never Happened on Netflix or Fyre Fraud on Hulu.
Okay, you're back? Wild story, right?
Fyre Festival, massive flop, and scam? Yes. But it was well marketed. Tickets sold out in minutes after celebrities and influencers posted a single image of an orange square.
Why?
Well, if you're following a supermodel's Instagram account, you're used to seeing images of them at photoshoots, doing their makeup, or in beautiful clothing. You're not used to just seeing something as mundane as an orange square posted on their timeline. These celebrity icons also posted captions to make it seem like they would be participating in the festival. Hang out with someone you are following on social media and admire? The internet went nuts for it.
Fyre Festival's orange square campaign worked. It made you look. It made you wonder, "What's this orange square about? Should I care?" People liked it. People shared it. People discussed it with their friends. Fyre Festival may have been a massive con, but you have to admit, their marketing was pretty clever.
How to Do It:
We don't recommend conning people out of thousands of dollars. Instead, we recommend that you throw in something different to your social media mix every now and then. Of course, it should be on-brand and appropriate for your followers, but there's always something new and different you can post about. Maybe talk about a current event. Or a recent book you read. Or a trip you went on. Find something interesting that may resonate with your followers and give it a try. And you never know; it may be your most engaging post yet.
How to Stand Out On Social Media: Be Funny
Example: Moon Pie
Moon Pie is a 100-year-old snack food that has stayed relevant because their social media accounts are hilarious. Take a look at the Moon Pie Twitter feed. Funny right?
And then this carousel on their Instagram feed? I don't even like Moon Pies, but I still follow them on social. I died laughing at this:
​Moon Pie has a ton of engaged followers because they are hilarious. They engage and respond to their followers and commenters and roast the haters. As a result, they are often one of the brands highlighted by marketers when discussing social media successes.
And you know what we say in the marketing world, "there's no such thing as bad press." If it wasn't for all of this talk of their social media accounts, I would have never tried a Moon Pie last year. Granted, I didn't like it but did Moon Pie make one more sale because of their social media? They sure did!
How to Do It:
As a nonprofit or small business on social media, your cause may not lend itself easily to humor. But chances are you may have some funny things about your staff or yourself that you can share. We always encourage our clients to show off the actual humans behind the business, so do a few staff spotlights. Share their stupid human tricks or quirks. Got pets? Dogs and cats are always up to hilarious antics, and I don't know about you, but I will always stop and smile at a silly kitten in my feed.
How to Stand Out On Social Media: Be Bold
Example: Nike
When the NFL turned its back on Colin Kaepernick, Nike didn't. Instead, Nike got behind the controversial NFL quarterback and partnered with him to use his image and stance as a source of inspiration, support of a cause, and ultimately sell sports apparel. Spoiler alert: it worked. Now, if you want to buy a Nike Kaepernick jersey, good luck. Last year's sale of a $150 commemorative Kaepernick jersey sold out in ONE MINUTE.
With social media, companies and nonprofit organizations can no longer "stay in their lane." Followers and fans expect you to be authentic. Future customers and clients want to understand your values before they give you their hard-earned dollars. So don't be afraid to take a stance on a polarizing issue. Sure, you'll alienate some followers, like the many people who took to social media to burn their jerseys after Nike launched their Kaepernick partnership. But you'll also gain some fans.
How to Do It:
This is a tricky one, so make sure you get top-down buy-in before choosing to go there. Choose a cause that aligns with your organization's mission and values. Write a blog post about it. Post it on social media. Follow the relevant hashtags connected to that issue, and make sure you add them to the post. Join in the conversation online. Comment on others' posts and tag friends and organizations that you want to apprise of the issue.
How to Stand Out On Social Media: Educate
Example: Blueland
Blueland is a relatively new company that sells compostable and plastic-free cleaning products. Their customers are people who care about the environment and are looking for more sustainable household solutions. Blueland's social media accounts don't just show their products in action. They also educate their followers on issues that impact the environment. They share reports and images on the environmental impact of human behavior and tips and memes to help followers be more sustainable. By educating their customers on sustainability beyond their products, Blueland has an engaged social media following.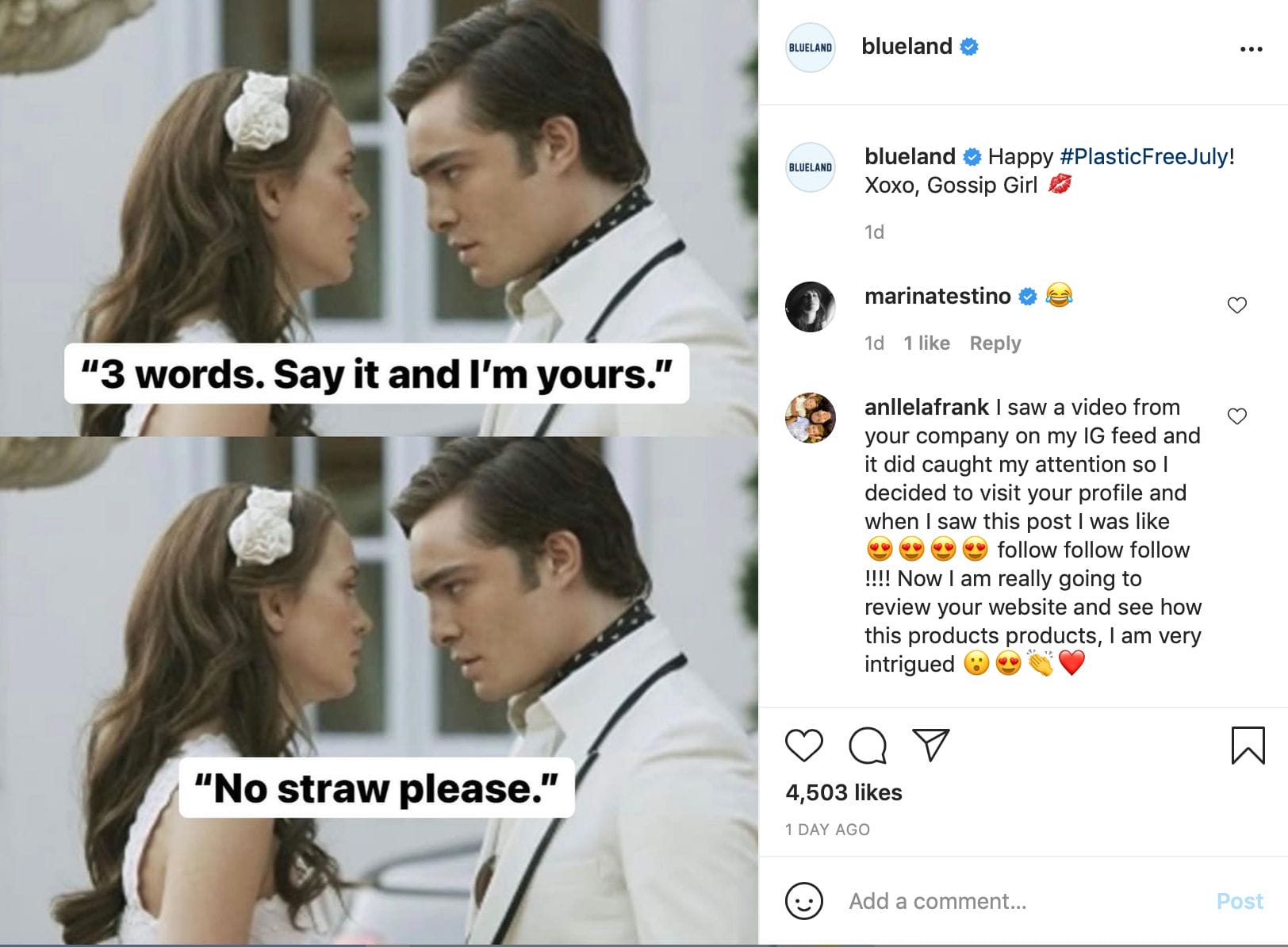 How To Do It:
 When you think about your social media content, think about other topics that your ideal customer or client might be interested in. Those topics may not be directly related to your line of business. But consider other related content that you can teach your ideal customer about.
How to Stand Out On Social Media: Video
Not really an example but here we go: YouTube
For years, marketers have been talking about how the growth of video. YouTube is now the second-largest engine, behind Google. TikTok exploded in 2020, and Instagram responded with Reels in late 2020. Recently, Instagram announced that it was no longer a photo-sharing platform and planned to prioritize videos. So the video revolution is finally here.
For visual learners, YouTube is a fantastic platform. Personally, I've watched videos on YouTube on everything from how to scramble eggs to installing patio pavers. The above tips we talked about (being bold, humorous, educational, and differentiating) can all be executed over video. The great thing about video is that anyone with a smartphone can do it. Think about all those "Shot on an iPhone" Apple commercials. There's so much you can do!
How To Do It:
Grab your smartphone and start filming! Use the tips above as guidelines for content. Facebook, Instagram, and Twitter allow you to post some form of short-form video, even if it's just 5 seconds long. Apps like InShot and Story Swag make it easy to turn videos into professional-looking pieces. Once you're ready, you can start doing more sophisticated videos like Instagram or Facebook Lives or more long-form content like IGTV. But with video so accessible, there's no reason your small business or nonprofit can't shoot a few videos here and there to keep your followers more engaged.
TL;DR
The moral of the story is, to stand out on social media, you have to mix it up. Don't just post the same types of content week after week, month after month. Try something new. Experiment. Have fun with it!
If all this sounds overwhelming, we get it. You're trying to save the world or run a business, and now you have to figure out how to stand out on social media too.
We can help.
We're a website, social media management, and SEO agency trying to help do-gooders like you do your magic in the world more easily. Contact us today to learn more about how our services can help your small business or nonprofit stand out online.Header Photo: National Archives on Flickr