Skip to content
Mother's Day and Marketing
I was recently struck by an email that arrived in my inbox. The sender: Ink Cards.
The subject line: "Would you like to receive Mother's Day emails?"
I open the email to find a simply worded opt-out letter:
Ink Cards is an online greeting card company. You download the app, pick out a card template, upload a picture (optional), maybe add a few words if you'd like, and they do the rest. Ink Cards will print the design and mail your card to your recipient. Even before the pandemic, I was a huge fan of Ink Cards. In the time it takes for a commercial break, you can pick out and send a greeting card. No leaving your house. No searching for stamps. No trips to the post office. Click. Click. Sent.
But what Ink Cards, ShopRunner, Pineapple Collaborative, and a handful of other retailers have recognized is that Mother's Day isn't a feel-good holiday for everyone. There are people with estranged relationships with their mothers. People with deceased mothers. People who are struggling to become mothers. People who are mothers to children who have died. People who have never met their mothers. People who have two fathers. For many, Mother's Day emails and promotions can be triggering.
In the world of social media, we always talk about keeping relationships with your followers personal and social. So what would you do if you were talking with a friend that you knew lost their mother to COVID last year? 
Giving customers the ability to opt-out of specific marketing emails is the online marketing equivalent of saying, "Hey, I know Mother's Day may be a little challenging for you." It's personal and inclusive, allowing individuals to choose how they interact with your brand on that topic. For customers in this group, this little acknowledgment can go a long way.  
Take the example of Bloom and Wild, a UK-based online flower delivery service that received accolades from customers for creating a Mother's Day email opt-out option.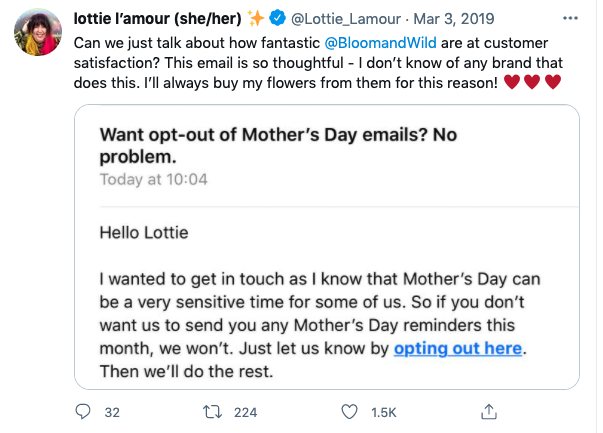 On platforms like Instagram and Facebook, there is no good way to let customers "opt-out" of select content – it's all or nothing. But there are ways to acknowledge that you know Mother's Day can be a delicate time for some people.  
Some of our suggestions:
Just say it.

On social media, we always encourage your business or nonprofit to have an authentic or genuine voice. So say what you mean, and mean what you say. If you want to say something to recognize that Mother's Day can be a loaded holiday, post an image with some text that says that. Your followers who are struggling with the holiday will certainly appreciate it.

Skip posting on Mother's Day.

If it's not relevant to your brand messaging, maybe post about something else that day. Did you know May 9, 2021 is also

National Lost Sock Memorial Day

?

Pay attention to your international followers.

Mother's Day is celebrated around the world on different dates. Posting something about Mother's Day in May may be confusing for your UK followers that celebrate Mother's Day in March.

Post something that addresses the different experiences people have on Mother's Day. This image from shelemah.com brings attention to some of the groups that experience Mother's Day differently than a "hallmark holiday."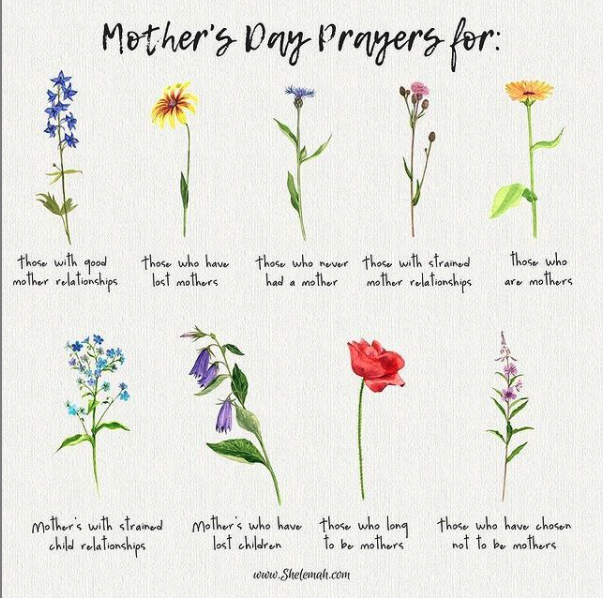 We know that email marketing, social media management, and SEO are some of the low-cost tools nonprofits and small businesses can use to promote their products and services. But in all things marketing-related, you want to be sensitive to the needs of your customer base. Although Mother's Day may not be a holiday that we traditionally think of as inclusive/exclusive like Christmas or Easter, with so many nuanced relationships to the holiday, maybe it's time to rethink how we market Mother's Day.
Sign Up Below for Weekly Tips on How To Help Your Business through COVID-19